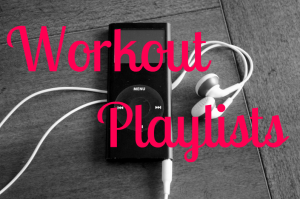 In order to have a great workout playlist, you need to find songs you like. While slow romantic songs may be just what you long for on the dance floor when you're with your special someone, they aren't conducive to a great workout at the gym. Choose your playlist wisely, but don't think it's permanent and can't be changed. You may hear a song you've forgotten about that really fits your workout mode better. If that happens, it's time to switch in the song and switch out one that isn't as good or just add it to the loop.
Get into the groove with a playlist for each type of exercise.
You probably won't want to have the same playlist for every type of exercise. If you're having fun frolicking on Kangoo jumps or tumbling on the trampoline, enjoy a group of upbeat songs displaying the freedom and fancy you're feeling. Pressing weights can be intense, so slow it down a bit, but not too slow. Practicing kickboxing calls for…you guessed it…any theme from a "Rocky" movie.
Build your determination with a playlist that has a message.
You might not remember the movie "Flash Dance," but I have clients who do and swear by two of the songs in that movie. "She's a Maniac" and "What a Feeling" are tops on their list. A few of those women add "I Will Survive" by Gloria Gaynor and some Donna Summer or St. Elmos Fire song "Man in Motion." "Girl on Fire," "Stronger," "Safe and Sound" and so many more. Find ones that inspire you and make you feel strong. That feeling transfers to your workout and life in general. I have one client that plays an endless loop of the song, "Easy Street." It is upbeat, but was first played on The Walking Dead to torture Daryl with its sugary sweet happy tone.
Let your musical preference be your guide.
For baby boomers, the oldies will probably be a great choice. For others, there may be special songs from their youth or a favorite one right now. "You Had a Bad Day" is another great one for loads of people. Just remember, the music and beat are just part of the story. The real magic is when you insert the words of strength and conviction into your brain every time you work your body. As you workout, new neural pathways are created in your brain. The songs you play affect the message you're sending to yourself. Make it a positive one.
When you create your playlist, focus on your activities at the gym. You'll want warmup songs and cool down songs in the group.
No matter who swears by a certain song, if you don't like it, don't use it in your playlist. Playlists are personal.
Choose songs you can create vivid mental images of strength and determination.
Switch songs in your playlist to match your mood or use several ones. You can have one for those perfect days where everything is going right, ones to motivate you when you're down and ones to make you feel powerful.