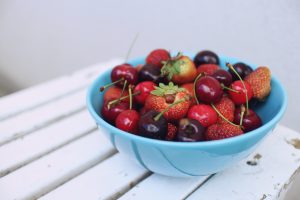 Serving healthy snacks for children, helps make changes in their eating habits and what they consider good food. While you probably won't get most toddlers to beg for another Brussels sprout, they won't be begging for junk food either. In fact, serving healthy snacks sets the stage for healthy eating, since most kids think that snacks are "the good stuff." It trains their palate for less sugary treats that are often addictive, such as candy or pastries, while providing a great time to boost nutritional intake.
Keeping it simple and easy is important.
Having easy to make snacks takes some hassle out of the day. A healthy snack can be as simple as air popped popcorn sprinkled with some Parmesan cheese and a few drizzles of butter. Individual containers of plain live culture yogurt with added fresh fruit can be a delicious healthy treat. Homemade trail mix with mixed nuts and dried fruit (think raisins to save money) can be divided into individual serving plastic bags.
Have snacks ready in the refrigerator for snacks.
As kids get older, they don't need you to set out snacks for them. They help themselves. That's why having cut up fruit and vegetables ready in containers can be a huge benefit. As soon as possible after grocery shopping, cut up fruit, such as melons to bite size pieces. Wash berries, cherries and grapes and put them in a bowl. Cut up veggies, such as celery, carrots, colorful peppers, cauliflower, broccoli and cucumbers. Have healthy veggie dips available and you'll see those veggies go fast. Any left over at the end of the week can be added to soup or as a supper side.
Get creative and have some homemade treats ready.
One favorite recipe is for what we called balls. They're made by combining a little honey, peanut butter and wheat germ, then rolled in wheat germ and put in the refrigerator until eaten. Another is also balls that boost energy. They're made with freshly ground flaxseed or whole chia seeds, nut butter of your choice, honey, oats, dried fruit and a bit of vanilla for flavor. Roll the ingredients in balls and coat with wheat germ, then store in the refrigerator.
Homemade kale chips or homemade sweet potato chips are oven baked and slightly salted. These are an excellent alternative to store bought chips.
Ants on a log are a long time favorite for kids. Stuff a celery stick with nut butter (normally peanut butter) and top with ants—which are really raisins.
Slice an apple in wedges and either peanut butter on each piece or make a dip by mixing some plain yogurt with crunchy peanut butter until it's dip consistency.
A sliced apple or celery stick goes great with thin slices of cheese. You can cut cheese to fit into the channel on the celery.