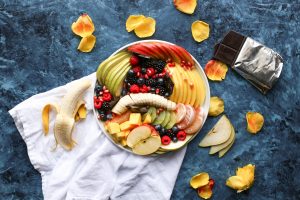 If you want a taste treat, you don't have to turn to high calorie foods. You'll find many delicious low calorie foods that are sure to hit the spot and will even make guests ask for more. There's nothing better tasting than the sweetness of fresh fruit, especially when it's still fresh out of the garden. Not everyone has the luxury of opening their back door and picking fruit themselves, so here are a few tips that you're sure to appreciate when you get your next attack of the munchies.
Keep a bowl of cut up cantaloupe available or fresh berries.
It doesn't matter whether you buy a cantaloupe and have it sitting in the kitchen, you won't snack on it because it takes too much work. As soon as you get home from the grocery store, slice and peel the cantaloupe and cut it into bite size squares. Keep those in the refrigerator for snacking. A whole medium size cantaloupe is only 186 calories, so grabbing a few pieces throughout the day won't add pounds, but will satisfy the urge for something sweet. The same is true for berries or other fresh fruit. If it's ready to pop in your mouth, it's a great snack or dessert that tastes fantastic.
Stuffed red peppers that can be vegetarian or beefed up, taste delicious without being high in calories.
Remove the tops and seeds of 6 medium sweet red peppers and par boil them. Cook a pound of lean ground beef and drain. Use or chopped eggplant and/or mushrooms for the vegetarian version. Saute in a tablespoon of olive oil; one medium chopped zucchini, one medium chopped yellow squash, one finely chopped medium onion and 1/3rd cup of finely chopped green pepper for about 4-5 minutes. When those ingredients are tender, add 2 cups rough cut spinach and two to four cloves of minced garlic. The spinach should wilt in about one minute and it's ready to mix with the beef, an 8-oz can of tomato sauce, a dash or two of salt, ½ cup shredded part skim mozzarella cheese and a cup of wild rice. Stuff the peppers with the mixture, place them in a greased baking dish, cover and bake at 350 degrees for 35 to 40 minutes. Take out and top with a half slice of low fat provolone cheese. Each stuffed pepper is 286 calories, lower with the vegetarian option.
Shrimp is yummy and low in calories.
If you want a low calorie main course option, you might turn to a four ounce serving of chicken breast without the skin. You'd be better off munching on a few shrimp. In fact, you could eat as many as 16 large shrimp before you'd hit the calorie count of the chicken breast. At 90 calories for ¼ cup of cocktail sauce, a few shrimp could be a snack or a dinner. Make foil packs for the barbecue with corn on the cob cut in fourths or fifths and added lime and cilantro, create cajun shrimp kabobs or add it to zucchini noodles (zoodles) for primavara zoodles with shrimp.
Spinach salad made with low calorie dressing is delicious and won't put on the pounds. You can even add a few sprinkles of bacon.
Get adventurous, try a star fruit as a quick treat or a dessert. It's high in antioxidants and vitamin C, too.
Grilled asparagus with lemon juice, salt and pepper is delicious. It has 50 calories for a half pound serving, which may be far more than you eat. Drizzle with a ½ TBSP of melted butter (from grass fed cows) and you add another 50 calories.
A delicious treat that can be a quick lunch or snack is a sliced tomato, drizzled with vinaigrette and lightly sprinkled with feta cheese.