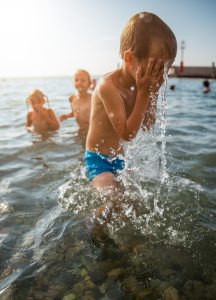 You can build memories and help develop a love of fitness by exercising with kids on vacation. Does that mean you're actually going to do jumping jacks at the rim of the Grand Canyon or have everyone drop and give ten visiting the nations capital? Absolutely not. It means you plan an active vacation, even if it is a staycation. Find ways to include things that are active and help build endurance, strength, flexibility or balance.
There's an opportunity to double the benefit of an active vacation, getting ready for it and the vacation itself.
Are you going to Disney World or other big amusement park. That takes energy to walk the whole day. If that's one of your vacation plans, use it to help your kids get fitter. It takes a lot of walking to see the parks and enjoy each minute there. Being tired and cranky can spoil everything. Start nightly walks and extend them until they last an hour. Over the weekend, consider visiting local parks, conservation areas and walking trails to build their endurance. When you let the kids know what you're doing, it not only builds enthusiasm, it makes them want to get into shape.
Pack up the bikes and enjoy some freewheeling at a national park.
Taking a biking vacation is a fun way to get exercise where biking isn't risky. Bike paths in most parks, both local and national, don't require the vigilance it takes when biking on local roadways. It can be fun and relaxed without the stress of worrying about oncoming cars. Pack healthy snacks and meals to eat along the way and it's the perfect healthy vacation.
Hiking through wooded areas can be quite rigorous.
There are many areas for hiking. Some of those are for the novice and some for the advanced. Again, getting ready for the trip can be part of the experience. Get maps of hiking trails and revue them with the kids. Some will be more difficult or longer. Review the trails with the kids and if they choose a more difficult trail, it's perfect for training to get ready for them.
Kayaking and rafting can be an active vacation that will exhaust everyone. It doesn't matter whether you're fit or not, spending a day on the water fighting the current is exhausting, but so much fun.
Swimming and water sports can be both fun and active. Even though you might want to envision spending a day at the beach snoozing on a lawn chair, you know better. It's a real energy drainer and an active sport.
If you're vacation is really a staycation, find local conservation areas to walk, local museums and even some fun activities that are active, like rock climbing, roller skating and rock walls.
Raleigh has a wide variety of sports and activities that will help boost your kids health. The adventure, courses, the vast 180 miles of trails, sports complexes and many water activities can provide a vacation year around for those who can't take a formal vacation.