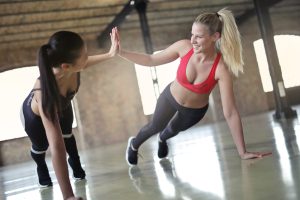 If you want to achieve fitness, you're not alone. Many people either are working on that goal or secretly wish they were. It can be even more fun when you share it. Who knows, you might discover that many of your friends secretly want to get started, but were sure how to do it or didn't want to do it alone. Part of the fun of getting fit is having someone to share the joy of victories. Working out with others in a group is also an economical way to get the benefits of having a personal trainer, but at a far less expensive price than private sessions.
Make it a team effort.
Whether it's the team at work or your ball team, who wouldn't do better improving their fitness? You'll boost the team spirit at work and find you really like your working partners. If you're an adult ball team, well you know that if everyone is fit, you'll be far more likely to win games. Working out will keep you fit in the off season, so there's not as much need for the Tiger Balm and other analgesic products. Getting fit not only shares the enjoyment, it shares the safety. When you're all in shape, the changes of injury reduce.
Share it as a night out with the guys or gals.
If you spend a couple of evenings a week stopping at your favorite coffee shop or going out for a beer, switch up and go to the gym instead. You don't even have to give up plans to go out to a club. You can go to the gym first, boost your hormones and burn off those from the day's stresses. You'll feel great for the rest of the night and have more confidence. You'll be the guy or the gal that looks relaxed, enjoying life more. You might find that when you share the idea, everyone will love it.
Make date night a workout night.
Taking couple time can be particularly hard when you have a family. That's why working out together can be a real benefit. You get a two-fer. You get couples time and healthy at the same time. Exercise not only makes you healthy, it also boosts your sexual drive, so sharing workout time with a spouse can be extremely important. You'll both get a boost in energy and probably find you even want to start other healthy habits, like eating healthier.
Best of all, working out with friends is just more fun. It can create some friendly competition to drive you harder or provide sympathy from someone who knows how hard the workout is.
You can workout on your own at home, but when you workout with a trainer, you'll get results faster. Even if it is fun to workout, seeing great results makes it even more exciting.
Working out together can get your ready for a special trip. You don't have to be skiing or surfing to benefit from getting into shape. You'll have more energy to walk and sight see, too.
You may want to try it with friends first. We have a free trial session that you may want to use.