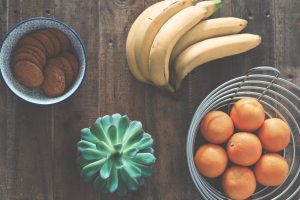 You probably already know that fat is healthy, but it also is higher in calories per gram compared to carbohydrates and protein. One gram of protein contains four calories, just as one gram of carbohydrates does. However, one gram of fat contains nine calories. While you don't want to give up the health benefits of fat, choosing healthy low fat snacks in Raleigh can help you keep your calorie count lower and allow you to include healthy fat foods at other times, such as having an avocado with breakfast to keep you full to lunch.
Mushrooms can be a great snack that also has other health benefits.
If you want to give your immune system a boost, consider snacking on mushrooms. They have lots of nutrients, such as Vitamins B6, D, C, niacin, pantothenic acid, thiamin, folate, riboflavin, iron, potassium, zinc, copper, phosphorus, manganese and selenium. It also is a good source of fiber and vegetable protein. That may be why mushrooms have been used by healers through the centuries. They make a great grazing snack at a cookout when grilled or a go-to snack served with a low fat dip.
Speaking of low fat dips, have you tried hummus?
If you haven't tried hummus, you should. This high protein dip is made from chickpeas, ground, hulled and toasted sesame seeds. You can make it at home easily. There's a bit of olive oil in it—a healthy fat, but to lower the fat, switch it out with low fat yogurt. Homemade hummus could be used as the low fat dip for mushrooms or a dip used for celery, carrots, broccoli and other raw vegetables.
Keeping it simple is the route to go with snacks that have their own container.
It's so easy to carry an apple or orange with you. There's no need for a container or plastic baggy. It's ready to eat the minute you wash it. If you don't need to carry your snack with you, another option for low fat, low calories snacks is to have fruit already cut and ready to eat in the refrigerator. A bowl of watermelon or cantaloupe cubed, grapes or cherries is quick to make and easy to access when you need a snack. If prep time isn't a problem, peel and section grapefruit and have it ready to eat when you need an energy boost or fill a craving.
Search for snacks that contain only ancient grains. You'll fill your stomach while getting a low fat option that's loaded with nutrition. Always check the labels to make sure you're getting only those grains.
Make a lettuce wrap to eat for a snack. A lean piece of baked, roasted or grilled chicken wrapped in greens will fill you up while providing protein.
Homemade kale chips baked on parchment paper may take a little longer to prepare, but are well worth the effort when you taste how good they are. Try baked sweet potato chips too.
Get a sweet treat without guilt when you go with chocolate-covered banana pops. Just cut up one inch slices of banana, put a stick in each piece and freeze. Later, when frozen, dip in dark chocolate or carob and put it back in the freezer. These banana pops are ready to eat when you crave something sweet.