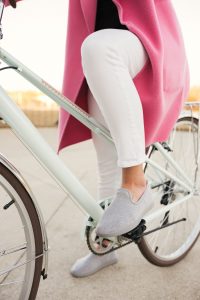 There's nothing wrong with feeling good about your accomplishments or taking time to enjoy the progress you made, unless it causes you to quit trying. If your goal was to lose 20-pounds and you've made it to the halfway mark, it can be a time for celebration, but can also be an important time to hunker down and get back to work. It's too easy to rest on your accomplishment and feel smug or satisfied with your achievements. However, it's the very time you need to combat fitness complacency.
If you've lost weight in the past and even reached your goal, only to regain it, you've been complacent.
Even if you made it all the way to your goal, it's no time to stop. One of the problems is that you've reached your goal, but you never set another to take its place. Create a new goal. It doesn't have to be about losing weight if you're at your perfect weight, but make it about fitness and staying in shape. Maybe you love the idea of cooking healthier. Make it your goal to try two new recipes a week or even create two. Consider a huge challenge like the Ironman or Tough Mudder and prepare for it. You need a new goal or you'll go back to old habits that created the problem in the first place.
Find an icon or a mentor that's doing better than you are.
If there's someone you admire that's in great shape, learn from them. Make it your goal to improve your fitness in all areas. One of the reasons many people become personal trainers is that they appreciated the knowledge and skills of other trainers and set their sites to be more like the trainer they admired. While you don't have to go that far, all the trainers in the gym are willing to help and guide you toward a higher level of fitness, share their secrets and help you be the best you can be.
Develop a hobby that is more than going to the gym, but still keeps you fit.
Maybe it's hiking all the trails at the local park or scaling that climbing wall, whatever you choose to challenge yourself with should reflect the need to stay in shape. Don't let your success at achieving your goal leave you complacent and without another goal to fill the void. That's the key to staying fit. Everyone needs a challenge. It's what makes life interesting.
As you approach your goal, talk with your trainer or a friend into fitness to find another challenge. You'll be amazed at some of the new ideas you'll get that you might not have considered.
Rather than bathing in your success, always demand more from yourself. It's good whether your goals are for fitness, business or life in general.
It's counterproductive if you shame yourself for falling off the wagon after having success. Get back to what made you reach your goals and then create new ones so you don't do it again.
Get out of your comfort zone. Take on new challenges that you don't think you can do. Make it part of your regular workout or daily routine. For instance, it might be lifting a certain weight or extending your endurance.
For more information, contact us today at Evolution Lifestyle Fitness