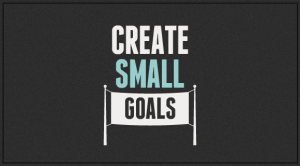 Some people are gung-ho when it comes to getting fit. They know exactly what they want to accomplish, set their goals and start working on it immediately. Others want change, but aren't ready for a big commitment. Instead of setting big goals, they start by inching into fitness with smaller, easier to achieve ones that eventually become a habit. There's no right or wrong way to do it. It's all about what works for you. If you set smaller, easier to achieve goals, it can give you confidence to go to the next step.
The goal should be achievable, yet rewarding.
While small goals are great, it still should be something you get excited about accomplishing. For most people, walking a block is not that exciting. However, if you're just recovering from a serious illness that left you weak, it may be a really tough goal. Your fitness goal doesn't have to be about exercise either. It can be something as simple as eating two types of vegetables every meal or getting adequate sleep. Each step you take toward good health has its rewards. Many people start with a weight loss goal. It can be as small as losing a pound every month. If you do it consistently, over time it makes a significant difference.
Small goals can stairstep you to fitness without becoming stressful.
Even if you have to lose as much as 100 pounds, setting that big of a goal can be overwhelming. It's not going to happen quickly and there's no celebration of your successes. It's better to break your large goal down into smaller, easier to achieve ones. If you want to eventually do power lifting, you need to identify how much you can lift right now and set a goal for five to ten pounds more. You still can set long term goals, making them the ultimate goals to strive toward using short term goals to lead the way.
Make it a real goal with a time frame and specific plan.
Don't worry if you simply started out with the idea you're going to eat more vegetables and found you now want to work out and eat healthier every meal. It happens, especially when you notice how much better you feel. When you're ready to start setting goals, use the SMART technique. SMART is an acronym for Specific, Measurable, Attainable, Relevant and Time bound.
You can change goals. They're not set in stone. If you find your goal is no longer relevant or doesn't fit your situation, change it. That's one reason short term goals are so important. Not much changes in a short period of time.
You might find that once you start a goal, things don't go as easily as you thought. That's no reason to quit. Everyone has uncomfortable times when they first embark in new territory.
Achieving small fitness goals will give you a taste of success. That can transfer to other areas of your life.
You have to know your starting point with fitness goals. It's one reason personal trainers check your fitness level before they create a plan of action.