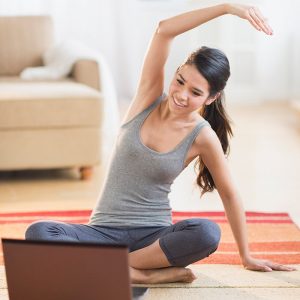 No matter where you live, you can always get the professional help you need when you let your computer be your best workout partner. Whether you're a mom with already more to handle than time to do it or a busy executive, sometimes the drive to the gym takes up all your free time, leaving you no time to exercise when you get there. You don't have to waste time any longer when you use my online program to help you succeed.
Get the workout that will make you look fantastic.
You'll burn tons of calories while you get fit in the process creating a chiseled look in men and a shapely toned look in women. Best of all, you'll get the help of a personal trainer at just a fraction of the cost. If you've joined gyms before, but seldom went because of time constraints and lack of motivation, this computer program could be perfect. You set the schedule and aren't limited to specific hours.
Watch your heart rate to get the best results.
I make sure you have all the necessary information and items you need to get you to your fittest condition and meet your goals. Whether you want to lose weight or just tone, tighten and create more muscle mass, this program will skyrocket you to success. You'll be bursting with energy too, after just a few short weeks. Tracking your heart rate is the key to success and the heart rate watch helps you do it.
You probably aren't eating as healthy as you should.
You need the right fuel to propel you to success and I can help you find it. It's time to clean the cupboards and get rid of unhealthy empty calories foods that pack on pounds. You'll be glad you changed your ways when you find out how delicious and filling healthy foods really are. Best of all, you'll learn how to cook healthy for your family and have recipes and information available any time you need it, not just when you're at the gym.
Everyone needs motivation and that's why I included my 28 days of coaching. It gets you through the hardest part of any fitness program.
You'll learn how to shop for the healthiest foods and just what each ingredient on the label means when it comes to your health and fitness.
If you're job requires you to travel, I'll be there with you. I'm always as close as your laptop.
When you have online membership, you even get four conference coaching calls with me.