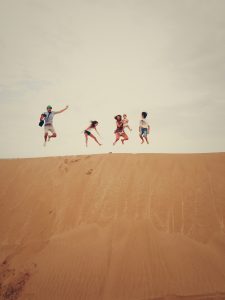 If you want active adults, you have to start with active children. Getting and staying active is learned early in life and can be a habit that keeps people healthier into adulthood. That's why motivating your kids to move more can be one of the best things you can do for their health. It's as important as teaching them how to eat healthy, although it takes both of those things and more for a healthier lifestyle.
Moving more is a habit that often comes from mimicking parents.
If you're constantly sitting and watching television, the chances that your child will become that type of adult are greater. If you want to help your children the most, get active yourself. Kids learn what they live, so the more active you are, the more active they'll become. Take them for walks, enjoy a more active version of the things you love, like walking through a large museum rather than watching a documentary of it on the television. Walk your children to school if possible, rather than taking the car.
Get the whole family involved in a sport or activity.
While walking more and hiking is one activity everyone will enjoy, there are others. It can be something as simple as hanging a hoop above the garage door and spending a few minutes to an hour with one on one ball or shooting hoops. I know a parent that ran races to a neighbor's house with their child, which sounds simple, but it really worked. The child always lost until she became about ten, from then on, it was no contest. The child also joined the track team in high school an did quite well.
Make a family fun event an active event.
Bike riding can be a great exercise and it's even better when it's a family event. It takes more than just riding together, it takes learning biking safety. Some parents even learn how to work on their bikes to do minor repairs with their children. If there's no safe place to ride bikes in your area, consider going to some state or local parks where there are biking trails.
Join an exercise group. We have special classes for children of all ages and ones for adults. You won't have to worry about a baby sitter for your five year old when you workout, just get them enrolled in private or group sessions.
Get the kids to workout with you if you workout at home. Younger children love the fun of moving with mom or dad and older kids love to challenge and beat you.
Get hula hoops and learn together. See how many different moves you each can make. It's fun and good exercise. Balance balls are also fun.
Use a special trip to get everyone in shape. One popular trip, to a large amusement park, requires a lot of endurance. Start getting in shape a few months before you leave. It's an incentive to strive toward.