Popular online health and fitness publication, LiveStrong.com, asked several top scale trainers for advice on how they recover from tough workouts. Read or click below to read what recommendation our very own Olo, has recommended doing.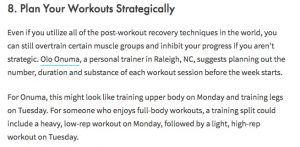 Even if you utilize all of the post-workout recovery techniques in the world, you can still overtrain certain muscle groups and inhibit your progress if you aren't strategic. Olo Onuma, a personal trainer in Raleigh, NC, suggests planning out the number, duration and substance of each workout session before the week starts.
For Onuma, this might look like training upper body on Monday and training legs on Tuesday. For someone who enjoys full-body workouts, a training split could include a heavy, low-rep workout on Monday, followed by a light, high-rep workout on Tuesday.