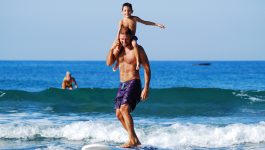 What's the best gift you can give to your children, parents, spouse or loved ones? It's the gift of good health and energy. That's why we focus on family fitness at Evolution Lifestyle Fitness. What happens to one person in a family affects all the rest, so each member needs to be healthy. If you're not taking care of yourself, but focus only on others, you're creating a dynamic that affects your family in both little and big ways. If you're a parent, you're a role model. You also need to be healthy to take care of your family, or they'll end up taking care of you. Keeping each family member is important, even when that member is you.
Family fitness has its perks.
When was the last time you laughed and played with the kids or did anything active as a family? Creating family memories come from little things, like shooting baskets after work or playing hide and seek. It also comes from big things like going to theme parks or vacations hiking. Both of those things need every family member to be fit to enjoy it to its maximum. When the entire family works out together, everyone will be ready for fun and adventure.
Teaching kids early about healthy eating can make a difference.
Making sure your kids are ready for action with a healthy meal is both good for their health and their development. It also helps prevent sugar highs and lows that can destroy a family's enjoyment. You'll be amazed at the difference in behavior when kids get healthy snacks, such as apples with peanut butter, nuts or veggies and dip, rather than sweet treats. It can change a lot of behavior that's less than stellar, improve their school work and keep the home happier. It does the same thing for every family member, including you.
Help Grandma and Grandpa to live on their own longer.
Sometimes, parents and grandparents want to work out and participate, but hate going anywhere alone or simply don't drive anymore. You could help them remain independent by picking them up and going with them to Evolution Lifestyle Fitness. We have classes for every age, including those 71 and older. We also help with dietary education that's geared specifically for each age group and personal preference. You'll be doing something very special for someone you love when you take a parent or grandparent to fitness training.
If you aren't ready for all the changes that lead to family fitness, start with one and add to it later. Whether you choose to change your eating habits first or start an exercise program is up to you. Just do it.
Not only does a fitness program help build strong bodies, it helps develop character. Whether you're six or sixty, setting goals and accomplishing them transfers to other parts of life.
Working out not only builds a strong body, it builds a strong mind. Studies show it improves cognitive abilities, helps kids in school and boosts job performance.
You can sample the services free at Lifestyle Evolution Fitness. Whether you choose a free personal training session or a week of free group training sessions, we know you'll be impressed.
For more information, contact us today at Evolution Lifestyle Fitness