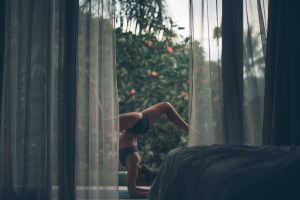 Whether you want an alternative to the gym for those days you have to stay home because of a sick child—or even waiting for the cable guy—you may want a home gym. You can do turn any space into a home gym with a little creativity. You don't even need all the fancy equipment. There are simple, easy to store options and workouts that require no equipment at all. You just need a space large enough to move around easily and one that's easy to get ready, or already ready, for exercise.
Reorganize a storage area.
If you have a "junk" or storage room where you stow those items until you need them or decide what to do with them, it's time to reorganize. Get rid of what you don't need or want. You'll be amazed at how much there is, particularly if you have bins of clothes. Put shelving on the wall for bins to hold all the items to remain. You should have an open area remaining that's perfect for an exercise mat, weights and enough room to move for body weight exercises or calisthenics. It doesn't have to look like a gym to get a good workout.
Spruce up spooky areas in your home.
Do you have a basement where nobody goes, fearing what might really be down there? Is there an attic area with easy access and a floor large enough to workout? These are potential workout areas, but they definitely do need work. Not enough time to get it ready? Use exercise time to clean them and get them ready. Nobody says pushups are the only way to exercise. Hard work is just that, hard on your body and great exercise. You'll get a workout cleaning and painting and when you're done, have more than a great body to show for it. You'll also have a room you'll enjoy using for your workouts.
Not everyone has basements, storage rooms or attics.
If you're really cramped for space, get a storage bin for your workout items. Stow it in the closet and to take out when you're ready. You can push back the chairs and coffee table to make room in the morning or afternoon workout. I have one client who works out of her home. On super busy days, she pushes back the chairs a few inches and moves the coffee table to create a 6'X8′ area where she does her "at home" routine. She did give one warning. Be aware of low hanging ceiling fans, especially if you're tall and doing stretches.
Ask your personal trainer to create a program you can do at home that requires very little equipment, if any and one that fits the space you have available.
If you have an area large enough that can be devoted to strictly a home gym, choose your exercise equipment wisely. Don't purchase it all at once and select the most versatile items first. Start small with weights or a kettlebell and exercise mat.
Consider the garage as an option. Sure the car has to remain in the driveway, but you'll have a fabulous body because of it.
If you have an in-law—granny—house on your property or a guest room, it might be a great place for your home gym. If company comes for the weekend, scoot back the gym equipment and it's ready for visitors.