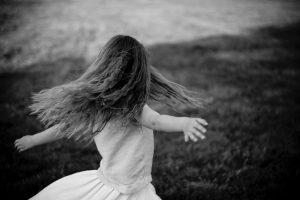 Many of my clients in Raleigh, NC are devoted parents who want the best for their children, including helping them develop healthy habits. That's one reason they find ways to keep the kids active. You can do the same by making a few changes to your lifestyle that allow you to exercise with your kids, making both of you healthier by doing so. It can be traditional workouts or just an active lifestyle. It all starts by limiting time in front of computer and TV screens and using that time to get everyone moving, including parents.
Younger children can actually be part of the workout.
There are a number of exercises you can do with preschoolers that are fun for them and fun for you. It's never too early to get children moving. Take time to show your young child how to do each move in your exercise routine. If they don't do it exactly right, don't worry. You can also include smaller children as part of the routine by carrying them during the workout or making your workout their game. Doing a crunch where you keep your toddler on your tummy and kiss or tickle them when you lift up your head or creating a plank tunnel they can crawl through are just two ways to modify your workout.
Make family outings active outings.
While you can have a lot of fun going to a show, you'll have just as much fun going on a hike and having a picnic, plus you'll get more exercise. That's good for both you and your children. Going to the zoo or even amusement parks provide a lot of walking. If you're planning a trip to one of the amusement park destinations, it's the perfect time to encourage your kids to get into shape by taking nightly walks or going to exercise classes before you leave. The trip is the incentive and the preparation to get into shape can make everyone less crabby at the end of the day.
Make gifts include the gift of family time.
Rather than giving the latest computer game, why not do everyone a favor when it comes to giving a gift, make it an active gift. Get yourself a set of roller blades and one for your child or children for a family activity you can all do together. Putting up a hoop above the garage and giving a basketball for hoop time together creates memories and bonding. Bikes for the whole family doesn't have to be expensive. In fact, pawn shops are a great place to get a bike for a low cost. Whether taking bike hikes in the park or learning how to do bicycle repairs together, it can get you and your kids moving.
It might not seem like fun, but household tasks can be fun, especially when you do them with speed and lots of elbow grease. Make it a game where speed counts. It turns work into fun and healthy exercise.
Have a special song and dance together. One of my fondest memories was dancing fast with my parents. It was always the same song and we even had a routine that got your heart pumping.
Teens can go to the gym with you and join classes geared specifically for those thirteen to nineteen. For children between five and twelve, we have youth fitness training that can be group, individual or virtual.
It takes more than just working out to be healthy. Make sure your children also learn how to eat healthier, too.